| | |
| --- | --- |
| | Welcome to Jennifer Aniston Online, your online fan source for Jennifer Aniston. Jennifer is probably best known for her role as Rachel Green in the hit NBC sitcom, Friends which ran for 10 seasons. You may also know her from her other roles in Picture Perfect, Along Came Polly, The Break-Up, Marley & Me, and Mother's Day. Here you will find news, information, photos, media and more! I hope that you like the site and please check back often for updates. |
Archive for the 'Jennifer Aniston' Category
EXCLUSIVE: Amazon Studios has won a heated auction among four other studios and streamers for a Julia Roberts and Jennifer Aniston comedy vehicle. The untitled body swap comedy was pitched last week by Max Barbakow, who will write and direct the film. LuckyChap Entertainment, the production label of Margot Robbie, Tom Ackerley and Josey McNamara, will produce alongside Roberts and her Red Om Films banner, Aniston's Echo Films, and Barbakow. He is best known for directing Palm Springs, the Andy Samberg-Cristin Milioti 2020 comedy won by Neon and Hulu at Sundance for a then-festival record sum. The comedy is based on his original pitch.
The appetite for a two-hander star vehicle comes after the surprise box office success of Ticket to Paradise, the comedy that re-teamed Roberts with George Clooney. For Amazon's Jennifer Salke and Head of Movies Julie Rapaport, this signals an uptick in Amazon stepping up to bolster its film slate.
Amazon was in the bidding for the Sundance hot title Flora and Son, and won the auction for Red Shirt, a Simon Kinberg pitch that Channing Tatum will star in for director David Leitch , and before that the Nick Stoller-helmed wedding comedy to star Reese Witherspoon and Will Ferrell.
CAA handled the auction, and it is further evidence that star packages that can be fast tracked and slotted into release schedules is the best way to get top dollar. By the time the Roberts and Aniston comedy gets made, I'm told that each actress will hit a payday high water mark, counting salary and backend buyout.
Roberts is repped by CAA and Hirsch Wallerstein; Aniston is CAA, Lighthouse Management, and Hansen Jacobson; Barbakow is CAA, Range Media Partners, and Jim Gilio and Jonathan Sauer at Sloan, Offer; and LuckyChap is CAA, Entertainment 360, and attorney Jeff Bernstein.
January 30, 2023 • Admin • Comments Off

on Julia Roberts And Jennifer Aniston Are About To Star In A Body Swap Comedy

• Interviews, Jennifer Aniston, News
The actress gets candid about ageing

Jennifer Aniston has always been a beauty icon, and there's no denying her influence, especially when it comes to hair.

The actor has embodied #HairGoals throughout her career, starting with the Rachel, the famous layered haircut her character Rachel Greene wore on Friends. Three decades after the popular sitcom first premiered, countless iterations based on the original are still trending and inspiring TikTok teens to copy the cut.

Aniston's envy-worthy hair prompted millions of women to want what she's having on their own heads. Fortunately, The Morning Show star made that a possibility in 2021 when she launched her own hair care line, LolaVie. The inaugural collection included her go-to Glossing Detangler and Hair Oil, so fans could finally experience their very own versions of Aniston-approved hair.

This autumn, Aniston has an even more exciting surprise.

As of September 2022, LolaVie has finally answered our prayers for more products, adding Restorative Shampoo and Conditioner to its assortment. Excuse me as I run out and get a Rachel-inspired butterfly cut to celebrate.

In honour of LolaVie's new launch, Jennifer Aniston spoke with Glamour US about her own LolaVie hair care routine and how she deals with pressures around ageing, as well as what advice she has for women who want to embrace grey hair.

Glamour: What's your secret for effortless hair?

Jennifer Aniston: The secret is using the right products that not only deliver on performance but are also formulated with the best ingredients. I try to keep it simple and limit the number of products I use, which is why I love LolaVie. Our products are designed to be multitasking and are made with the highest-quality plant-based ingredients.

Why was it important to include skincare ingredients in LolaVie's shampoo and conditioner?

Just like your skin, your hair needs hydration, moisture, and protection. We use squalane, a common ingredient found in skincare products, in our Superfruit Conditioning Complex, which hydrates and seals in moisture and also helps protect hair against environmental stressors. Chia seeds, also a well-known skincare ingredient, help repair the look of existing damage while also protecting the hair from future damage.

There is so much pressure on women to age the "right way"—either they're not doing enough to conceal their age or have done too much. How do you tune out all the noise?

Two things are inevitable. The first aging. The second, there's always going to be critics. For me, it's more of the question of how do I take the best care of myself, physically and mentally? We can still thrive when we're older, and that's thanks to all the advancements in health, nutrition, technology, and science.

What advice do you have for someone who wants to go grey but might be a little afraid to do it?

You do you! If you want to go grey, go for it! If you want to keep colouring your hair, that's great too. I think everyone should feel confident in whatever choices they make, including embracing natural colour or texture. Hair is a creative way to express yourself, and I love that your mood and energy can change with the change of a hairstyle, cut or colour. Embrace whatever is going to make you happy.

This story was originally published in GLAMOUR (US).
"I would never have that much chickpea in a salad, to be honest."
Blame the chickpeas. See, it all started with Courteney Cox's 2010 interview with the Los Angeles Times. The actress told the paper that Jennifer Aniston ate the same salad on the set of Friends every day for 10 years, a "doctored up" Cobb. It's gone viral over the years as folks on social media authoritatively describe Aniston's love for mint, parsley, and garbanzo beans while tossing the ingredients for an overhead camera. "It looks like a delicious salad," Aniston tells ELLE.com over Zoom, "but that's not the one I had on Friends." The problem? Aniston would never pour an entire can of chickpeas into a salad like that. "Not good for the digestive tract," she attests.
(The plot thickens slightly: In 2015, Aniston documented her day for haircare brand Living Proof and wrote on its Instagram that her "perfect salad" includes, among other things, garbanzo beans, according to People. Maybe she and the salad are on a break.)
So, it turns out, the salad is viral, but not vital. These days, Aniston is happier snacking on blueberries and sipping almond milk. All this talk of vitality came about because she now holds the title of chief creative officer for Vital Proteins, a collagen powder purveyor. She worked with the brand on three new protein bars—so if you want to actually eat the same thing as Aniston, these might be a safer bet. We chatted with Aniston about all things vital, including that infamous salad and her Netflix guilty pleasure, The Ultimatum.
WHAT ARE YOUR THREE VITAL ESSENTIALS?
Oh my god. In terms of…anything? My dogs, my proper nutrition, and sleep.
WHAT ARE THE VITAL FOODS IN YOUR FRIDGE?
I have chopped celery and cucumbers, blueberries, and almond milk.
WHAT ABOUT INGREDIENTS FOR THE FAMOUS TIKTOK JENNIFER ANISTON SALAD?
Well, that salad, dare I debunk that? That's not the salad that I had every day on Friends. I feel terrible because it's literally taken off like crazy, and it looks like a delicious salad, by the way, but that's not the one that I had on Friends.
YOU HAVE EVERYONE IN THESE STREETS MAKING THIS SALAD AND YOU'RE LIKE, "I'M SORRY. LOOKS GOOD, BUT NO."
It really does. I would never have that much chickpea in a salad, to be honest. Not good for the digestive tract.
WHAT'S ONE VITAL ACT IN YOUR DAY?
Meditation.
WHO ARE THE VITAL PEOPLE IN YOUR LIFE?
My best friend, Andrea.
WHAT'S A VITAL STEP IN YOUR MORNING ROUTINE?
I keep going to meditation. I have a mantra. There are apps that you could get on your phone depending on what your mood is. Sometimes I like guided, sometimes I like to just sort of have my own mantra.
HOW ABOUT A VITAL STEP IN YOUR NIGHTTIME ROUTINE?
Washing my face and brushing my teeth. Never go to bed with makeup on.
WHAT'S YOUR VITAL TRAVEL SECRET?
I don't have one yet. If there's a secret anybody can give me… Well, there was one about working out wherever you go. The first thing you should do is have a workout. I've only done that once in my lifetime, to be honest. I did it one time and it was great. That was vital for that one time. It was the Along Came Polly press junket. I thought I would play better on that one.
WHAT'S YOUR VITAL READING RIGHT NOW?
All I've been reading honestly is scripts. I'm in the midst of reading Morning Show season three scripts. My morning is water, meditation, season three, reading scripts, and outlines.
WHAT'S YOUR VITAL GUILTY PLEASURE?
Bachelorette, but that hasn't been on in a while. Bachelor, Bachelorette. I've lost my love of it the last couple of years, I have to say. So this is a problem. My guilty pleasure has been letting me down the last few years.
YOU NEED A NEW REALITY SHOW. HAVE YOU TRIED THE REALLY WILD ONES LIKE LOVE IS BLIND?
Do you know what my girlfriend made me watch one night and I watched almost all of them? It was The Ultimatum. It's just these couples. One is like, "I want to marry you." and the other's like, "No, I'm not so sure." And then they go in with a group of couples, each one has a, "I want to marry you," and the other's not so sure. Then they date other people. What is up with this Ultimatum? Then they date someone else in the same room. The two people that did not want to get married are dating each other.
IT'S NUTS, BECAUSE I FEEL LIKE THE PEOPLE WHO SHOULDN'T HAVE GOTTEN MARRIED ENDED UP GETTING MARRIED.
It was just… I was irate; I was like, "I can't make it through an Oscar-nominated film and I can watch 19 episodes of this damn show." Please. Please.
WHAT'S YOUR VITAL KARAOKE SONG?
I don't have one. Oh my gosh. When was the last time I even sang karaoke? I'm sure it would be a Journey song. Don't Stop Believing, Open Arms, or one of those from the '70s. Well, there you go. I mean these are important topics we have to hit. [Laughs.]
June 15, 2022 • Admin • Comments Off

on We Regret To Report That Jennifer Aniston Does Not Eat That Viral TikTok Salad

• Interviews, Jennifer Aniston, Press
In their Actors on Actors conversation Jennifer Aniston ('The Morning Show') and Sebastian Stan ('Pam & Tommy') discuss what it's like talking to a prosthetic penis, how best to approach playing a real life person like Tommy Lee and reuniting the cast of 'Friends.'
Variety Actors on Actors presented by Apple TV+.
Of course Jennifer Aniston and Sebastian Stan are bound to talk about the 1990s. Stan is receiving Emmy buzz for donning tattoos and losing weight to play Tommy Lee, the Mötley Crüe drummer, in Hulu's limited series "Pam & Tommy" — which is set in the decade that made Aniston a star on "Friends." Actually, as Aniston thinks about it, she could see Stan chilling on the famous coffeehouse couch on her former sitcom. But they don't agree about one thing: Is he a Joey or a Chandler?
The time travel then moves to the early days of COVID, to discuss Aniston's transformative turn as anchor Alex Levy on Season 2 of "The Morning Show." In the latest arc on the Apple TV+ drama, her character jets to Italy to confront her disgraced colleague and best friend Mitch Kessler (Steve Carell) — but that wasn't always the show's plan. By the time they finish exchanging stories on Variety's "Actors on Actors" presented by Apple TV+, Aniston and Stan are so comfortable, they've cast themselves in a dream project together.
SEBASTIAN STAN: I'm such a huge fan of yours. I have been for years, so this is very special. Where I'd love to start is with doing a show during COVID, and incorporating COVID as subject matter. How was that approaching it from the perspective of Alex?
JENNIFER ANISTON: There was obviously no COVID when we started shooting, although there were rumblings of it. It was, like, January. We had shot for about a month. All of a sudden, companies were closing and working from home. We were all saying, "What about the actors? We don't have the luxury of social distancing. We're in scenes together."
STAN: Yeah.
ANISTON: And they're like, "Screw the actors." So we shut down. We took that time to realize that there was something missing in Season 2; it had to be completely reimagined. The same thing happened with Season 1, where we had about seven shows outlined, and the #MeToo movement happened. I feel like our show is kind of in this place where we actually deliver the news literally, as in real time.
STAN: I found in the pandemic watching the news was heartbreaking and exhausting. And sometimes it made me paranoid. Did you find that you ended up watching more news as a result?
ANISTON: Actually, the opposite. I watched more news before, because I loved morning shows. But when we started shooting, I stopped watching. It was too much. You shot "Pam & Tommy" during the pandemic as well.
STAN: We did. We started around this time last year, so the vaccines were just coming out. Everybody felt safer or a little more relief. But it was just weird because it was the '90s every day for 12 hours.
ANISTON: Which, by the way, feels like yesterday.
STAN: I know.
ANISTON: I have about a thousand things to ask you about "Pam & Tommy." Can I just ask one really blatant one, get it out of the way?
STAN: Of course.
ANISTON: So you have a scene where you're talking to your penis?
STAN: Yes. We talk.
ANISTON: How do you prepare for that? How does it read to you on the page?
STAN: The train of thought starts to go into panic mode. It was a tricky scene to shoot, because we didn't know if it was really going to work — if it was going to be too much or not.
ANISTON: Did you shoot it kind of two ways?
STAN: No. There were components, manual and prosthetics and things, and people with wires sort of plugging things into sockets.
ANISTON: That's crazy.
STAN: Well, yeah. Look, we have the benefits of CGI. But we went old school for it, which was an interesting experience.
ANISTON: Very bold. Very brave.
STAN: His penis is a character in the book that he wrote. So the writers were tipping their hat off to that, and trying to find a creative way of how this guy would confess his love for this woman.
ANISTON: How much did you study Tommy and Pam? Were you familiar with them in the '90s?
STAN: I'm from Europe originally.
ANISTON: From?
STAN: Romania. And then I lived in Vienna for a while. We moved to New York in '95. I remember "Baywatch" more than anything. Even in Europe, we used to watch that religiously. You know, communism or not, you got "Baywatch." But I didn't really know what happened. That's what was surprising about doing the show — how many people really didn't know that the tape was stolen, or they had nothing to do with it.
ANISTON: And it was right at the time when the internet really shaped a new culture about people becoming famous. This thing of people becoming famous for basically doing nothing. I mean — Paris Hilton, Monica Lewinsky, all those.
STAN: Yeah. When you look back at the '90s, you do see how many things have happened in that decade. Even the O.J. Simpson thing was actually the beginning of 24-hour news.
ANISTON: I always say I feel lucky that we got a little taste of the industry before it became what it is today, which is just different — more streaming services, more people. You're famous from TikTok. You're famous from YouTube. You're famous from Instagram. It's sort of almost like it's diluting our actor's job.
STAN: That brings me to something I'm curious to ask you about "The Morning Show." Did you find anything different with it being a streaming service? Or how did you approach the dialogue piece of this?
ANISTON: Well, "Friends" was — half-hour was so easy compared … I mean, you had an audience.
STAN: That sounds like the most terrifying thing ever.
ANISTON: And by the way, every actor who was a film actor who came onto our show, they were terrified. It was like, "Who are these people laughing at what I'm saying?" I think "The Morning Show" feels like you're shooting a film, although you're covering much more real estate a day. The dialogue for me, I would take every Sunday, and I would hammer the whole week out with my acting coach. We would spend three hours, sometimes four, just going over every scene so that I became comfortable. I'm speaking like someone who is way smarter than myself.
STAN: Did you watch anyone in specific?
ANISTON: My dream human is Diane Sawyer. I had a wonderful dinner at her house right before we started. And the stories were endless and fascinating. And Gayle King was great. Chris Cuomo was great. Hoda. They were excited too, because it is such a world behind the scenes of what goes on.
STAN: I'm always just amazed that their day starts at 3 in the morning.
ANISTON: It's a very strange nocturnal existence. There were nights where Diane said she wanted to live her life with her husband and go to the theater, and she just would stay awake. And then, recover on the weekends. She said she couldn't make the coffee at home because her husband would smell it and wake up — so she would sneak out of the house, run to work and make her coffee. Very considerate of her.
STAN: In terms of Alex and Mitch's relationship, did you guys always know at the end of Season 1 where it was going to go? And some of those twists and turns, particularly with Italy and so on?
ANISTON: No. We had to reimagine. After we went on summer break, [showrunner] Kerry Ehrin would think about Season 2 and gave us the little bullet points. And I was supposed to start in rehab, like for mental health. And we always knew Mitch was going to die. He went to do coverage on a war. He blew up in a building or whatever. It was just like, "This is so violent." But then this played out beautifully with him being sent to exile in Italy to live in his shame. Have you always wanted to be an actor?
STAN: I guess I was like really good at impressions or something. My mom used to bring me out when we had people over.
ANISTON: And your first big break was "Gossip Girl"?
STAN: "Law & Order." Jerry Orbach.
ANISTON: I went to high school with his son. Are you a good auditioner?
STAN: I don't know. I didn't mind it so much.
ANISTON: That's good. I was terrified of it. I would walk into that room just shaking. It's a shock I ever got hired. Let's be clear. My first job was a Bob's Big Boy commercial.
STAN: Really?
ANISTON: I couldn't get hired for like two years because I was just my own worst enemy walking into a room. You would have been a great cast member on "Friends." You would have been a Joey.
STAN: There are so many times where I've gone through a lot of lonely nights with "Friends," I will tell you.
ANISTON: It's a friend to have in the room sometimes.
STAN: And my friends would always go around and be like, "Who are you most like?" I always came closest to Chandler, because I get very sort of neurotic. And I just used to die laughing. Coming back to Rachel for the "Friends" reunion, I can't even imagine how surreal that experience must have been. How did it feel, seeing everybody? Is it cathartic? Or is it weirdly the same goose bumps come back? It's so familiar.
ANISTON: It was all of the above, honestly. I don't know we expected for it to sucker punch us as hard as it did in the emotional gut. We just had the idea this is going to be so fun — we're going back to the sets exactly the way they were. And literally, every single nook on a shelf was the same. It was so creepy. But each and every one of us, we walked in, it was just like, "Oh!".
STAN: Yeah.
ANISTON: Time travel. It was '04 when it ended. And we were different. We were so little. Our lives were ahead of us. And so much has changed. We kind of had rose-colored glasses going into it. And then, it was like, "This is really a lot heavier than I thought." But I wouldn't change a lick of it. Every time we all get together, it's just like no time has passed. We basically grew up together, and taught each other a lot. We're each other's fall guy because the world was happening. We were exploding, and that kind of notoriety was sudden. And we were in these four walls doing the show, and this insanity is happening. And thank God we had each other, because we really couldn't talk about it outside. It was before social media, so we still had some sanity.
STAN: I'm thinking if you had social media when "Friends" was happening, it's almost like I'm sure the network would have said, "Hey, can we get a TikTok video of you guys?" And so much of that was preserved for the screen. And that's why I sometimes wonder: Are we without some of that mystery?
ANISTON: I get very nostalgic about the past. I also find it interesting that people still love it today, because what are they relating to? You look over at a table of four people having a meal. And there's usually three people on a phone, just scrolling mindlessly.
STAN: And you guys are on the couch and reading the paper and talking over coffee.
ANISTON: I have a really weird question. This has nothing to do with anything. You know how there's this new thing where everyone says, "It's tech neck," because you're looking down on your phone? Didn't people do the same thing when they read the newspaper and books? So why is tech neck a new thing?
STAN: I —
ANISTON: I don't know. Just thought I'd throw it out there. By the way, working on green screen, how do you feel about the Marvel movies? I mean, that's got to be tedious, right?
STAN: I feel like it's more opportunities to get distracted. You're looking over there and it's a planet, and there's a cliff and all these people are coming — and you're just staring at a wall. It's bizarre. I'd love to be able to have things to interact off.
ANISTON: An actor, an actual person.
STAN: And not a tennis ball. But then, it also just makes you use your imagination in a different way. I never discriminate between any type of genre.
ANISTON: Do you have a favorite?
STAN: If I could just live in "Notting Hill" the movie forever, I would.
ANISTON: Is that a romcom? Why do they have such a bad rap these days, because wouldn't that be fun to do one?
STAN: It would be.
ANISTON: Wanna do it?
STAN: Do you wanna?
ANISTON: I do.
STAN: Do one in a second with you.
ANISTON: Shooting in New York City?
STAN: Yeah, yeah. That sounds great. They could probably write that very quickly.
ANISTON: Great. We're gonna do a rom-com. So exciting. We're bringing them back
Today is our special lady's birthday celebrating her 53rd year on this earth! 53? I refuse to believe it as Jen is an ageless godess. 😍
To Celebrate her birthday I have added a bunch of Outtakes from Previous shoots from the following Instyle Magazine (2019) and alongside a never before seen Photoshoot for Aveeno,2013!
I'd also like to thank my amazing friend Sparrow for her amazing Birthday Graphic she made for this post to celebrate Jen's birthday for me! And the amazing Watermark tag she made for the Outtakes, thankyou so much!😍❤️ Be sure to visit her website on the incredible Kat Dennings.
Magazines & Photoshoots > Photoshoots > 2013 > Session 005-Aveeno
Be sure to check out this incredible project designed by Nicole who is an amazing artist and Jen fan! she designed a fan magazine in the style of Jen's favorite NewYorker Magazine and it is really incredible!😍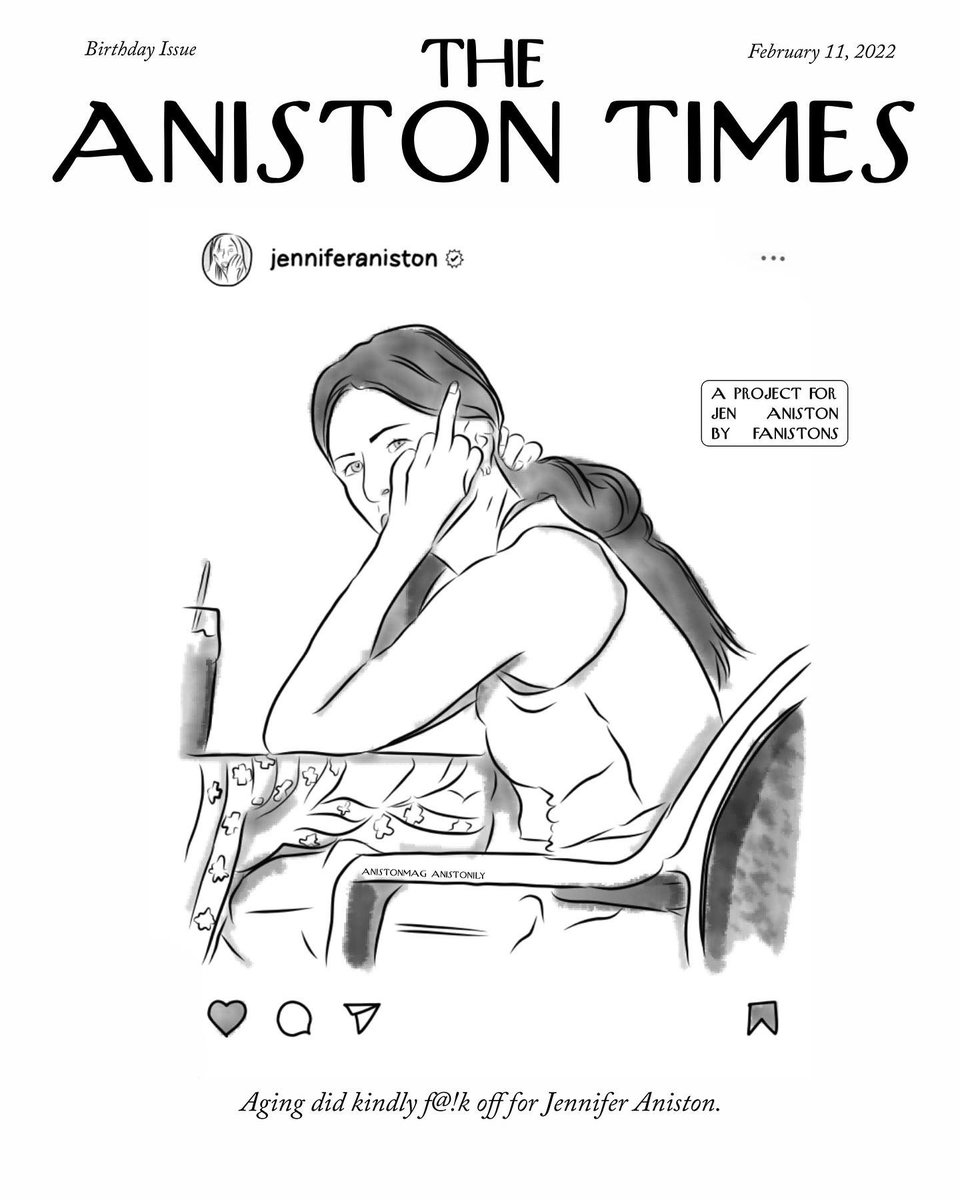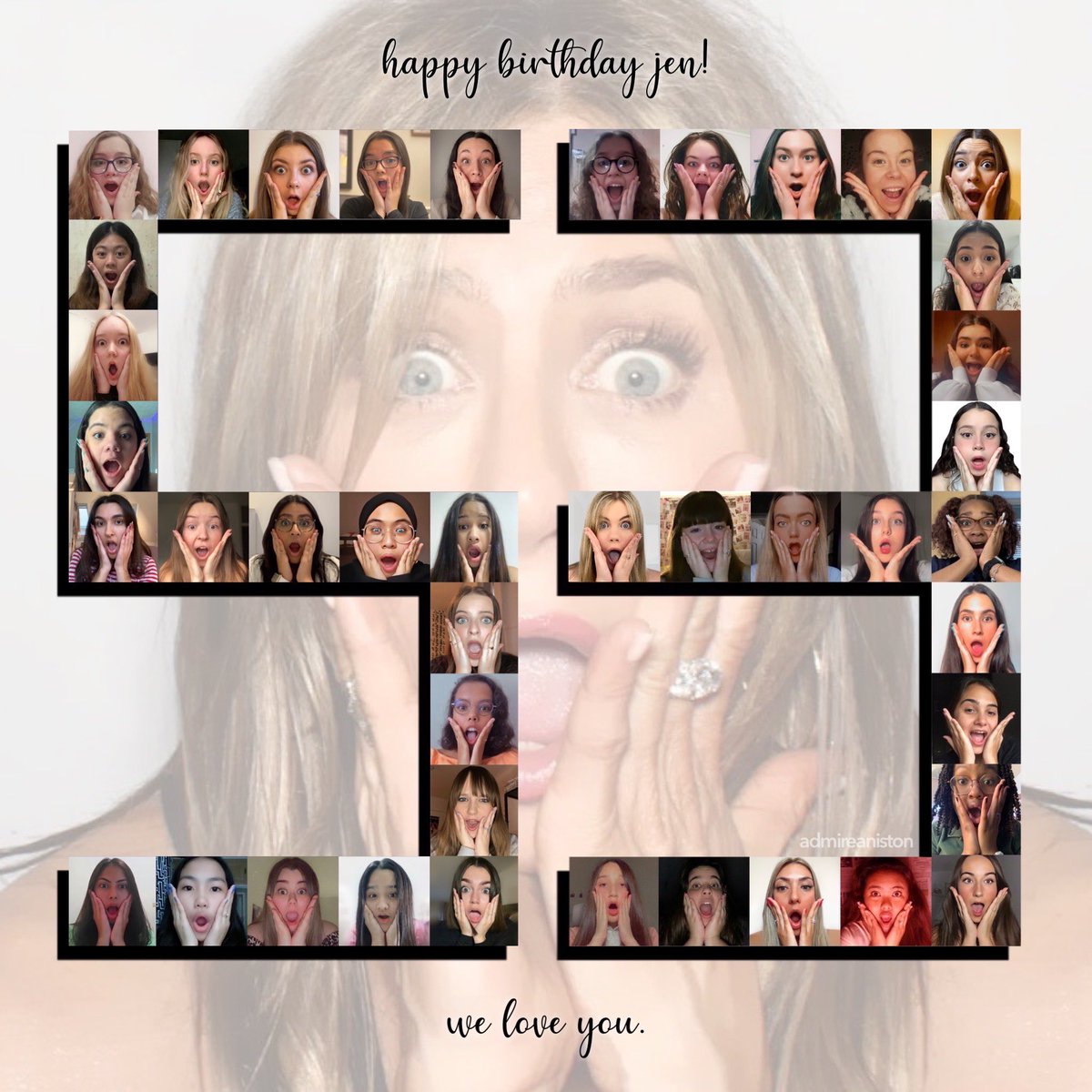 Be sure to also check out
Court's
amazing project for Jen's birthday as well with Fansitons around the world!❤️