These days, Jennifer Aniston is all over the incredible birthday tributes. First came the unseen Friends throwback with Reese Witherspoon. And now the sweet message to Paul Rudd. She really has got the fandom's best interests at heart, eh?
The pair starred opposite each other in 1998's The Object Of My Affection and 2012's Wanderlust, as well as in 17 episodes of Friends as Rachel Green and Mike Hannigan.
And it looks like they've been BFFs ever since, judging by the cute Instagram Stories Jen just shared to celebrate Paul's birthday. She also alluded to the hilarious celebrity conspiracy theory that he doesn't age (the Ant Man actor turned 52 years old yesterday, and genuinely does not look a day over 30.)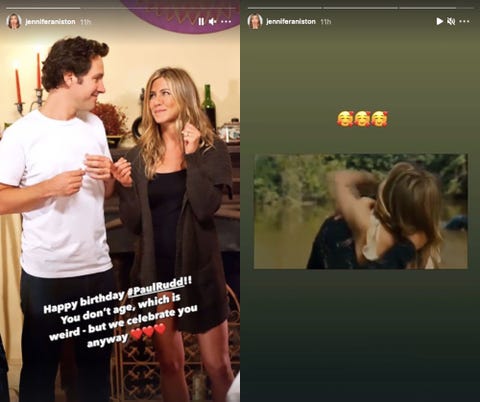 "Happy birthday #PaulRudd," Jen wrote on Instagram. "You don't age, which is weird – but we celebrate you anyway." She added three hearts before putting "I love you" on a second slide, and sharing a GIF of them hugging on a third.
We would like this friendship with either party, please.
Thanks on social media have been all over Paul's birthday, sharing a similar message about his never-changing face. "Paul Rudd turns 52 years old today and, once again, I'd just like to say: HOW DOES THIS MAN NOT AGE?!?" one person wrote.
Another added, "Happy birthday to one of my favourite actors, the man who can't age, Paul Rudd."
Drop the skincare routine, sis.